Ghost Punchers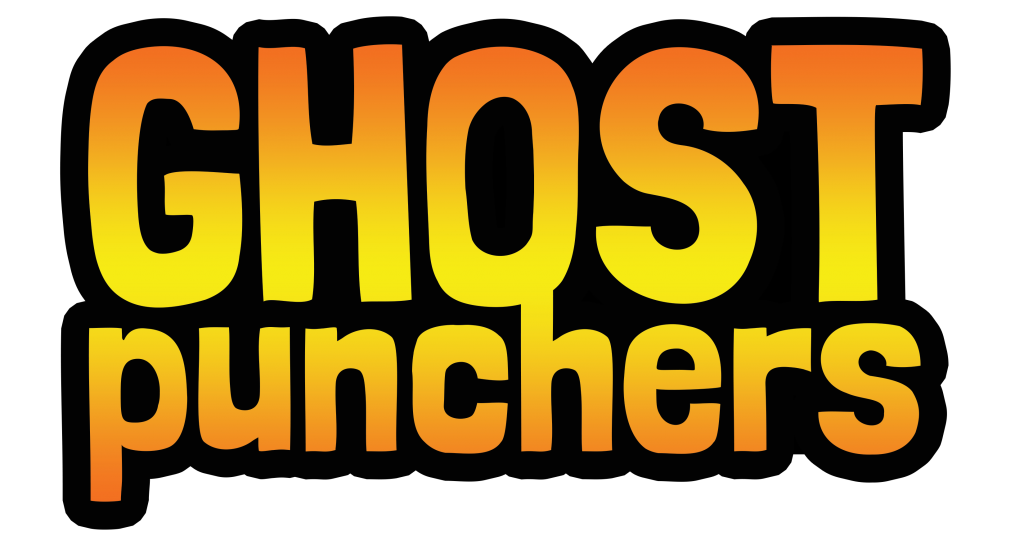 In the world of Ghost Punchers, ghosts are the spirits of the evil dead who haunt the living and consume their life force rather than face Final Judgment. These phantom cannibals are invisible, intangible, and the only ones who can stop them are ghost punchers!
Ghost punchers are psychics who can not only see ghosts, but touch them as well. This "touching" often takes the form of breathtaking violence; when sufficiently punched, a ghost is driven out this world entirely and forced to go into the Light. That's bad for the ghost, but good for the world.
---
Products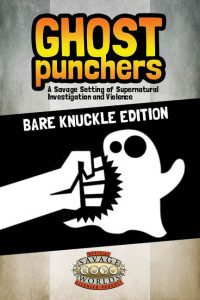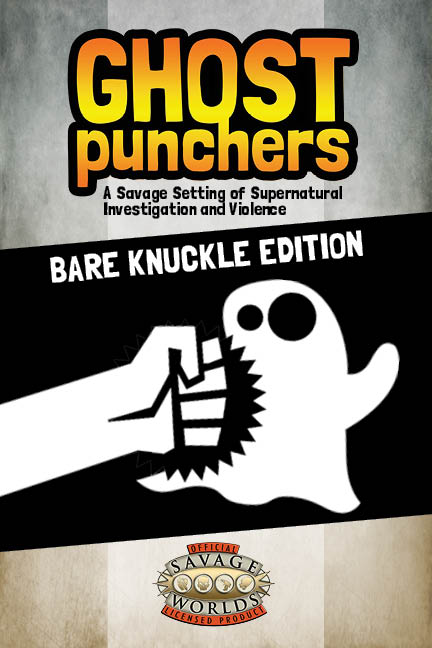 Ghost Punchers is roleplaying game of supernatural investigation and violence. It's powered by the Savage Worlds game system, and packed with features such as:
+ Rules for creating ghosts
+ Rules for possession, haunting, and such ghostly activities
+ New Edges, Hindrances, and Powers to help you create the ghost puncher of your dreams
+ And the obligatory much more!
Ghost Punchers – Bare Knuckle Edition is available now!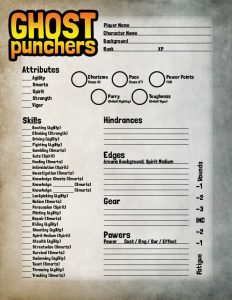 Tired of recording your characters' stats on bits of tree bark? Concerned that your scraps of notebook paper just aren't giving you the full Ghost Punchers experience? Angry that you've been forced to use a "generic" Savage Worlds character sheet for your ghost-punching heroes?
Then I've got great news!
Here is the official character sheet for Ghost Punchers! It has the words "ghost" and "punchers" printed right on it, so you know it's the best such character sheet available. (It even has a spot to record your character's Power Points. Let's see your tree bark do that!) And yes, the PDF has layers, so you can make it not quite so fancy and save yourself some ink.
So put down that cuneiform tablet and get the Ghost Punchers character sheet today!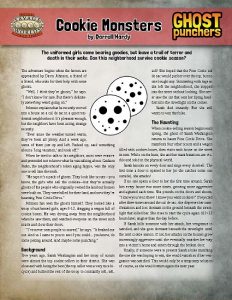 In this one-sheet adventure, the ghost-punching heroes face down a pack of rampaging, cookie-selling scouts who don't care that they're technically ghosts, they still have a quota to hit!
Every year, these ghostly scouts haunt the neighborhood, pounding on doors and offering their deadly cookies. Every year, someone falls prey to this troop of ghost girls. But but this year is different. This year, the heroes are on the case, and those seasonal spirits are about to get punched!
Cookie Monsters is available now!
---