Punching Hitlers for Fun and Profit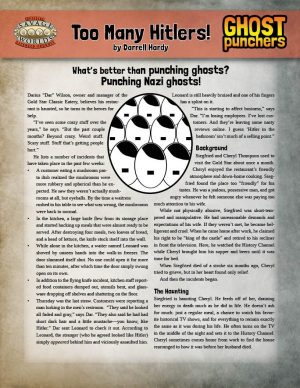 The one-sheet Ghost Punchers adventure, Too Many Hitlers! Is finally available for download.
What's better than punching ghosts? Punching Nazi ghosts!
The Gold Star Classic Eatery is haunted! Customers' dinners are transformed into dishes of horror. Waiters are locked in the freezer by mysterious forces. And people are being assaulted in the restroom by what appears to be the ghost of Adolf Hitler.
The owner of the Gold Star has had enough! These ghosts need a good punching, and he knows just the heroes to administer it.
Too Many Hitlers! is a short adventure for the Ghost Punchers roleplaying game, which is available for purchase here.
In other ghost-punching news… I'm cautiously pleased to note that the files for the print-on-demand version of Ghost Punchers are at the printer. This is my first time doing POD, so I suspect I did something wrong and the printer will be kicking the files back (thus the caution), but if not… hard copies could be available before Halloween. (Oh no! I just jinxed it!) Stay tuned for updates!
---