Back on the Jam Wagon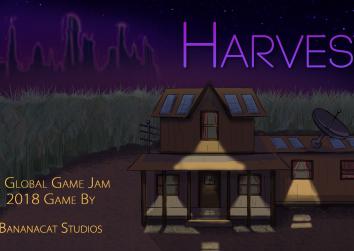 I love doing game jams. Oh, I don't participate in every jam I see, or even every jam I want to do (only so many hours in the day, after all), but when an opportunity presents itself, I like to take advantage of it.
Last weekend, that opportunity was the Global Game Jam. For those who don't know, the goal of the GGJ is to team up with some friends (ideally ones you've just met, i.e., strangers) to produce a playable video game in 48 hours based on a surprise theme. This year's GGJ theme was "transmission."
Over the course of 48 hours, I teamed up with Ken Hoff (programming), Jojo (art), Joshua DuChene (music), and Elizabeth and Terrence (writing) to lovingly produce HARVEST, a short, mysterious visual novel. I handled much of the writing, as well as a certain amount of moral support. ("Yeah! Code that interface! Way to go!")
You can play HARVEST right here in your browser. It only takes like 5-10 minutes, but I'd encourage you to play it with headphones on to get the full effect and truly appreciate the sweet music.
Now that I'm back on the jam wagon, I find myself looking around to see what other game jams are coming up. Hmmm… Ludum Dare, eh? Might be time to check that one out.
---